This�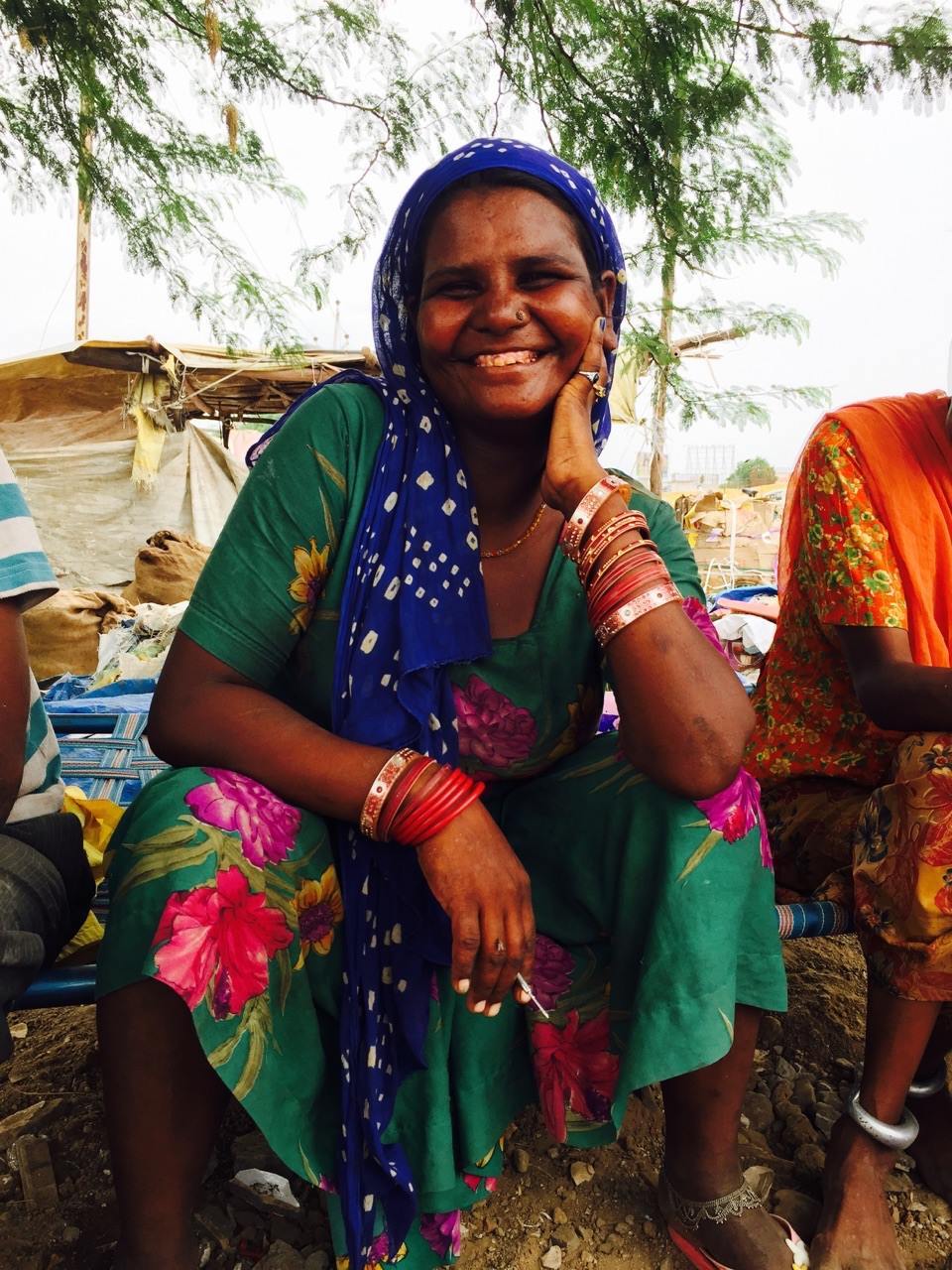 story is about Premi Behn who when asked was not really sure about her age. However, after looking at her radiant face, one could tell that she was not over 35 years.
Her home is in Ramsamanth, Udaipur, Rajasthan where she used to live with her 4 brothers and 7 sisters. She has never been to a school and has been working as a construction labour since she was a kid. She mentioned that she got married in 1998 and after marriage in the year 2000 came to Ahmedabad to work as a waste picker in the city. Since then she has managed a roof of sometimes tin and sometimes cardboard over her and her family's head, in a not so affluent area of Bopal in the city. Today she has 5 children – 3 girls and 2 boys all below 8 years.
Prior to her marriage itself, she had stepped into the business of waste collection as her family was not able to make the ends meet. When posed the question of "Why this sector", she answered in an extremely confident manner; she said "When I used to work as a labor, I went to work at 8 in the morning and used to leave at 6 or sometimes 7 in the evening. Even after working for all these hours, I never made more than Rs. 150 per day.Whereas, now I leave my house at 9 am and come back by 12 am. I and my husband make Rs. 400-500 a day.
Both of them together collect almost 60-70 kg of waste each day, but that is not end of work for the day; the real story begins from time the waste is brought home. They then segregate the waste into various components and sell it to the waste dealers. A number of such dealers come at their door step to collect the waste. However, she was talking more about the one dealer who comes in uniform, from a place called Gota and has his phone numbers written on his Tshirts and caps. She was talking about the Let's Recycle initiative of Nepra Resource Management Pvt. Ltd. to whom she has been giving waste since 2012.
Under the initiative Let's Recycle, the company collects dry waste, segregates it and sends it to authorized recyclers; hence diverting waste from landfills. The waste collection services are scheduled as per the requirements of the customers who are commercial establishments, waste pickers and households.
She conveyed that the other waste dealers although measured the weight on the digital weighing machine, never gave them the entire money on the same day. This was a huge setback for her. Her family survives hand to mouth and requires Rs. 250 daily for food, let alone for anything else. When queried that how was she able to get the money from those waste dealers, she clamoured "Even if they did not give me my money back, they could not steal my luck." And this is why; she gives maximum amount of her collected waste to Let's Recycle.
Let's Recycle pays them immediately and is just a call away. Whenever she achieves an appropriate quantity of waste to be sold, she calls at the number which a young boy in the neighbourhood has noted down on his mobile and the collection executive of the company appears the same day. Her husband said "Now we work, eat and sleep peacefully".
She is already sending her eldest son who is 7 years to the government school and plans to educate all her children. She told that she wants them to get a job and not work like her. The husband and wife also save some money and send it to their village. At the time when she was enquired about any other problems that she has faced in her life, she ingenuously said "I have lead a happy and satisfied life".